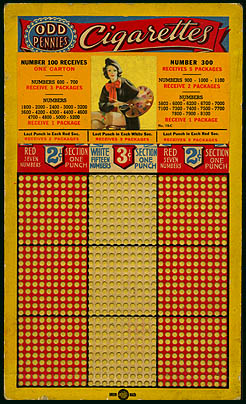 I found this punchboard recently at an antiques dealer in Jackson, Tennessee. I thought it would make an interesting subject to disect a bit, with the purpose of helping the beginning collector identify some of the common features of punchboards, and show how their presence can affect the value of a board.
Generally, the board is in pretty good condition, and is completely unpunched. The corners have rounded a bit, which is not unusual, and doesn't really detract from the overall look of the punchboard.
The punchboard is scuffed a bit, which is normal for most older boards. It does have the punch (or stylus) sealed on the back, which is a definite plus.
Take a look at the front and back of the Odd Pennies Cigarettes punchboard for more information.